Published: October 27, 2022
The eCommerce brand experience that starts online continues through order confirmation, payment experience, order tracking, delivery and subsequent support. The package that is delivered to your customer's door is the first physical introduction to your brand, so it is worth paying attention to the message it delivers.
Fit the packaging to your product
Choose packaging that protects your product and is sized appropriately for the contents.  Your product should be snug enough to not bounce around during delivery or experience compression.   Smaller packages may avoid the need for void fill and can also save money on shipping.
Think outside the box
With the variety of available shipping containers, a box is not always your best choice for eCommerce packaging. If your product's packaging profile is small or narrow, you can take advantage of containers like cut-out wraps, e-commerce boxes, or compostable mailer envelopes.   
Look into the void
Void fill is often needed to form a protective layer around delicate products during shipping. There are a variety of forms available, from air cushions to pellets, to scrunched paper, webbed paper, and board and foam-based materials.
Sustainable
There is a large range of packaging options available made from recycled and recyclable compostable materials. Many companies have moved to 'zero plastics' in their packaging by using compostable materials and paper-based tapes.
Return-friendly
Mailer envelopes have easy-open tear strips to avoid damaging the mailer, while some also have a second adhesive strip, allowing it to be easily sealed up again if needed for its return journey.
Colour and branding
Custom boxes and mailers can reflect company colours and branding. If security or discretion are of concern, the inner package lining can be branded in a plain corrugated box. A more cost-effective solution could also be to use branded paper tape on standard packaging.
Packaging slip and gift message
A simple branded packing slip and thank you note provide another opportunity to mimic the luxury retail experience and promote a personal connection to the brand. Providing an opportunity for a personalised gift card can also promote gifting through eCommerce.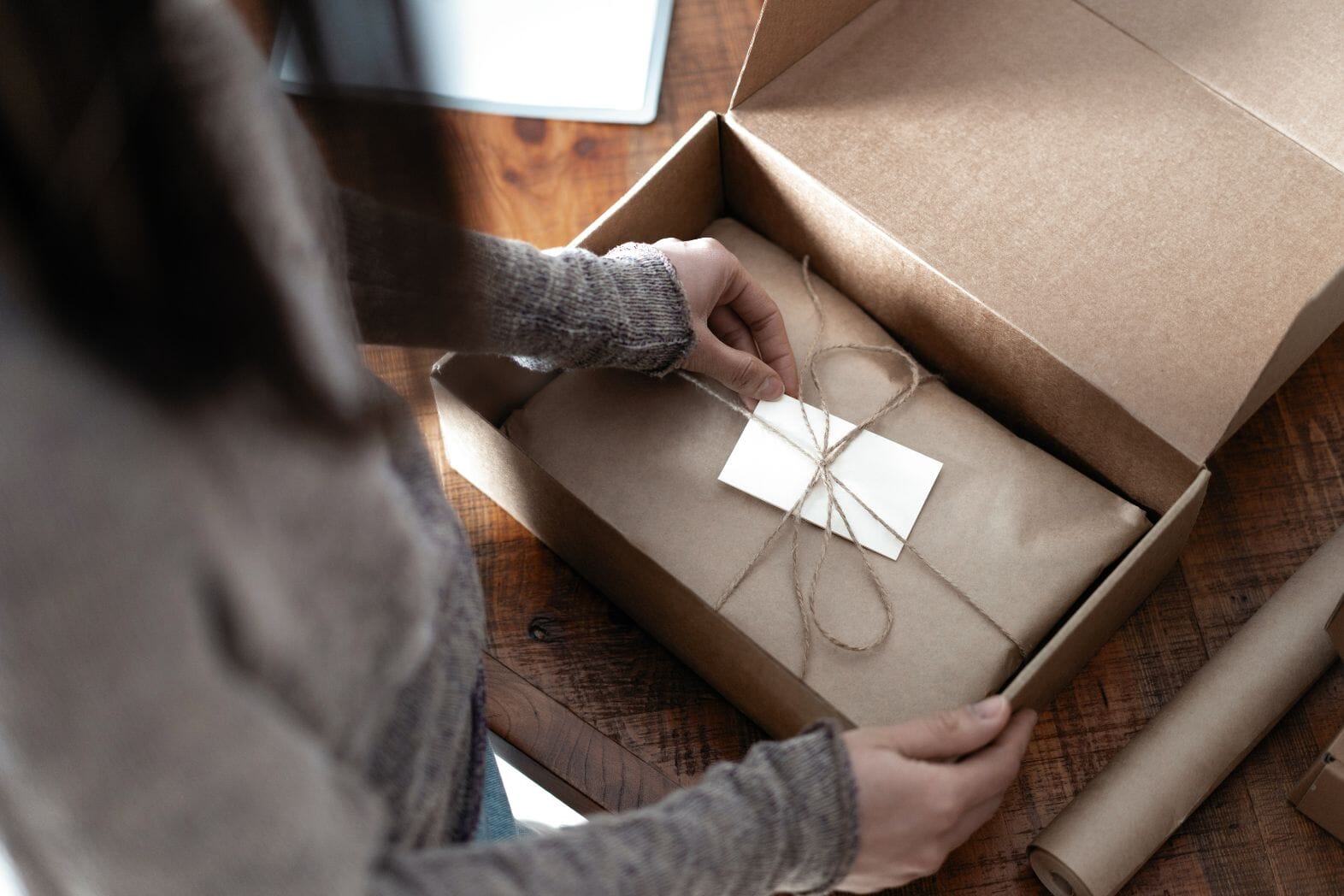 Unboxing experience
Think through how the customer will open the chosen packaging. Make it frustration free – and consider product and logo placement within the package to control the user experience when they receive their product. The use of branded tissue paper, a small surprise gift or personalised coupons can also complement their purchase.
Attention to detail
Develop specifications for how packages will be sealed, the quantity and positioning of tape, the orientation and placement of labels to create a consistent look and feel for your ecommerce deliveries. Train fulfilment teams and closely monitor adherence to standards.
Set and meet expectations
Branded communications can advise when a product has shipped and set a delivery window for customers. Many carriers can now provide timed and adjustable delivery timeframes for delivery. The golden rule however, is to meet the expectations that you have set with customers.
Listen and learn
Provide customers with the opportunity to give feedback on their delivery experience, through formal and social media channels. Take feedback and continue to refine packaging and delivery processes. Also listen to the fulfilment team on ways to improve consistency and deliver a high-quality customer experience at the scale needed for peak shopping periods.
eCommerce packaging is more than just a throw away item. In many cases, it is your customers' first physical interaction with your brand. Take the opportunity to think through the investment that you want to make in that first impression.
Reach out to us at any stage to discuss your eCommerce or broader supply chain needs. We would also love to hear about additional ideas and experiences you have had or what good and bad looks like in this area.
---
Supply Chain Enabled