Published: August 25, 2022
Higher fuel and energy costs, higher insurance costs, a continuing shortage of HGV drivers, increased customs and trade compliance requirements and increased delays at ports all feed into a very challenging logistics costs environment.   In a sector that already operates on slim margins and has no room to compromise on safety and standards, there is little choice for providers but to reflect these costs in higher charges to shipping customers.
What are the opportunities to collaborate to mitigate these cost pressures in supply chain?
Travel fewer miles

Network optimisation based on customer locations and volumes to position distribution nodes to minimise the total transportation weight / distance travelled
Dynamic smart routing of shipments based on loads using transportation algorithms to plan more efficient routes for drivers
Planned customer shipping days and times to enable more efficient routing and to customers in similar areas

Increase shipment density

Packaging engineering to increase the density of products from primary packaging to pallets to containers
Understand height restrictions and ability of products to be safely stacked, taking into account axle weight restrictions on vehicles
Consider the use of postponement to minimise shipment of air – adding low value or bulky items closer to the customer
Consider the use of transhipment points to achieve high density for the bulk of the journey, decanting to smaller vehicles for last-mile delivery
Enable collaboration with other shippers to improve shipment density and asset utilisation delivering on similar routes and to similar customers

Increase asset utilisation

Consider the potential to utilise expensive fleet assets through the addition of evening or night deliveries in collaboration with customers – nothing more expensive than a parked asset for 12 hours per day

Be freight and driver-friendly

Continual focus on reducing delays at pick up or drop off and providing suitable driver facilities on site
Clean shipments – product ready, loading bay available, paperwork ready and clear communication of special shipping instructions
Proactive communication to forecast requirements and replan resources in the event of delays
Invest in training and development of drivers and listen to their feedback on how to improve shipment efficiency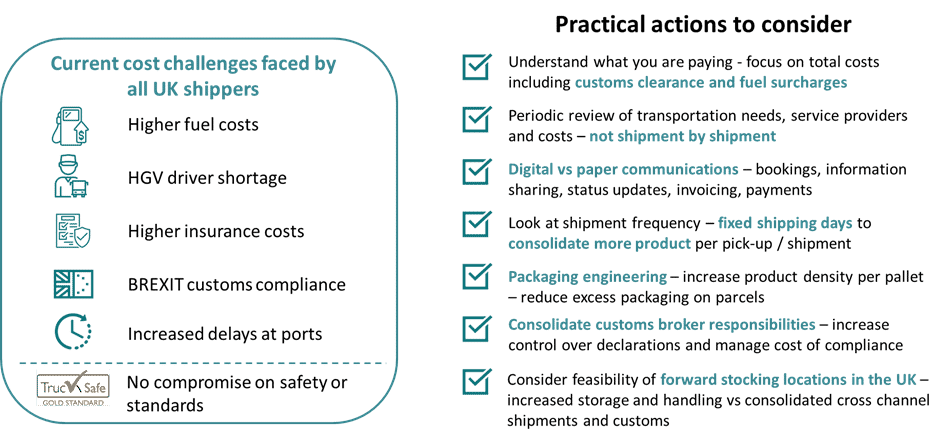 Time is an asset

Understand when products are needed at their destination and use the available time to plan the most appropriate mode and routing – not everything needs to ship next day
Are there opportunities to shape demand and shift volumes to days with available capacity?

Streamline ancillary activities

Migrate paperwork, communications, proof of deliveries, and invoicing to digital
Consider consolidated service providers for customs clearance and related activities to control the costs, but also the quality of submissions made to customs authorities on your behalf
Establish clear communications and escalation paths

Manage your transportation providers

Look beyond the base shipment rates to understand fuel charges and other accessorial charges on invoices
Consider cost-to-serve on individual customers or customer segments – identify customer requirements that are driving additional costs
Provide clear indications of projected volumes and requirements and engage the market on a periodic basis to ensure that you receive competitive pricing
Control transportation data (using transport management systems) to maintain carrier-independent views of shipment performance, costs and volumes
Collaborate on opportunities to improve the profile and costs of your shipments
In an environment where input costs are challenging, managing, and changing the profile of shipments can have a significant impact on overall logistics expenses. Reach out at any stage to discuss the help that PerformanSC can provide in identifying cost and service opportunities.
---
Supply Chain Enabled