Published: November 17, 2021
Consolidated Service Centres perform well in pandemic
In our 2021 survey of Health Systems supply chain leaders, 100% of respondents that operated a CSC felt that having that internal capability made them more successful. In looking at the performance of stakeholders within the supply chain, 94% believed that internal supply chain teams performed well or very well which compares to just 18% for distributor and GPO partners.
Reading through the data and the qualitative responses to the survey, we believe that there are several key factors that contributed to this performance.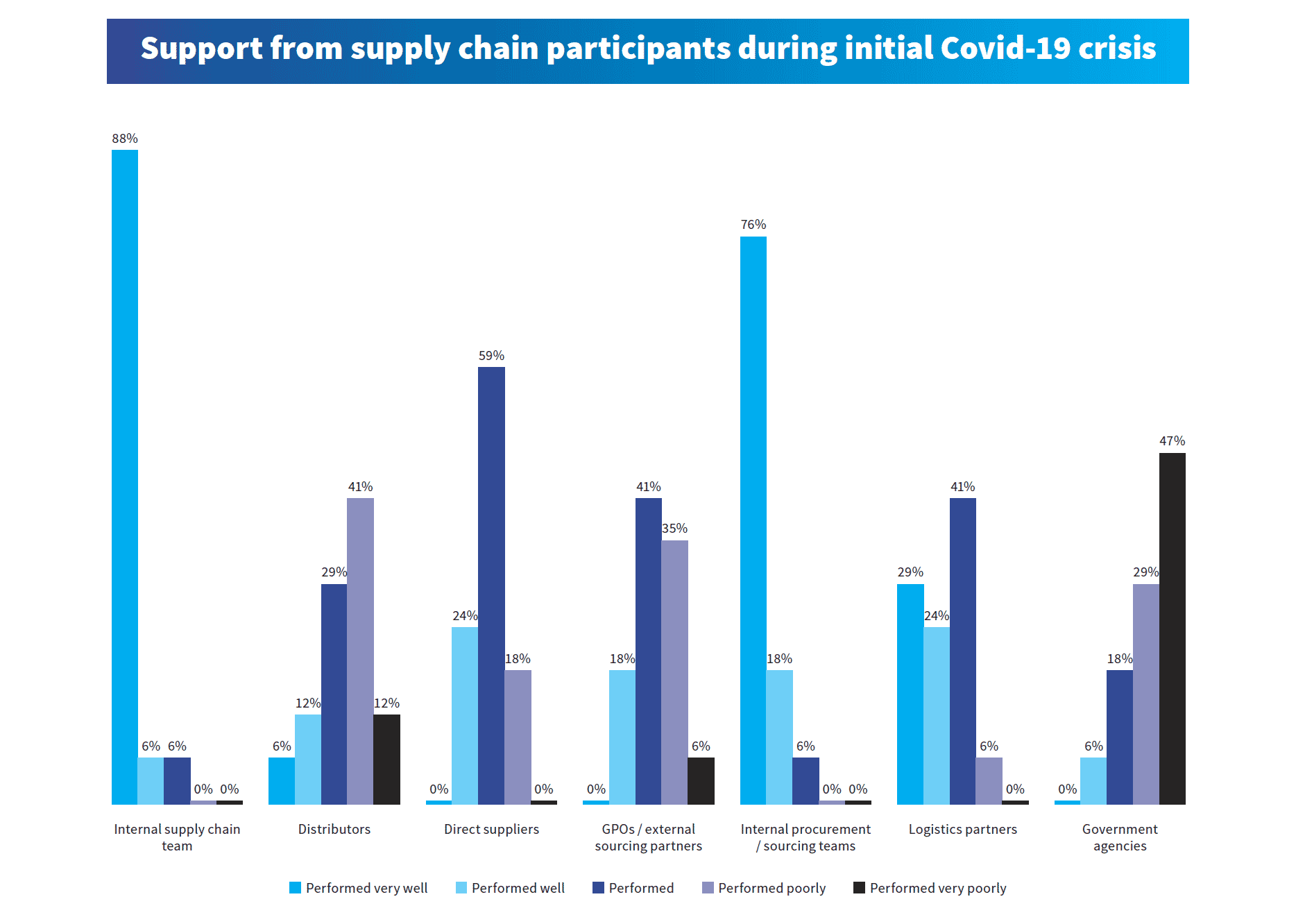 Physical warehouse capacity: While inventory was in short supply across the industry, the ability to secure it in bulk and take it into a facility ring-fenced for the needs of the health system proved invaluable. Many had to scale this capacity during the pandemic, but having the systems, people and processes enabled flexibility in sourcing.
Sourcing capability: With existing sources unable to support the rapidly escalating volume requirements for PPE, finding and qualifying new suppliers became critical. This part of the supply chain organisation came under intense pressure, but many new sources were identified and onboarded in difficult circumstances.
Focus: Nobody is suggesting that distribution and GPO partners did not also go through huge efforts to support health systems. They, however, faced an almost impossible task where all of their customers simultaneously went into crisis mode. Supply chain teams within the health systems had a singular objective and focus. Although they would not have the scale of their partners internally, they could apply their resources to the areas deemed most critical for their own individual health systems.
Speed: In a rapidly changing environment, having the ability to make decisions quickly to secure stock, update forecasts, prioritise orders and qualify new suppliers is critical. Many of the CSC supply chain teams were empowered from early in the process to do what was needed to support the clinical needs. While mistakes were inevitably made in some cases, the speed of decisions helped to alleviate the issues being experienced.
Communication: Clear communications between supply chain and clinical teams on the availability of supply and prioritisation of need helped many health systems. While supply was not always available, clear information on the timing of supply helped facilitate decisions on allocations. This is an area that many health systems referenced and an initial challenge during the process.
While these capabilities enabled the response from health systems, many also highlighted areas that needed improvement in the future.  Key among these was the automation of processes – particularly around forecasting demand, the allocation and rotation of inventory and the management of backorders.  Most systems also plan on adjusting their inventory policies and sourcing policies into the future to provide additional buffer inventory and to move away from single source supply relationship.
---
Supply Chain Enabled