Published: October 1, 2022
Fundamentally, supply chain strategy is required, not only to support overall corporate strategy, but in many cases also to shape strategy by enabling new opportunities for growth and differentiation. By bridging customer needs and supplier capabilities the supply chain strategy will define a company's core competencies, core processes, and will choose its suppliers and its tiers accordingly. Procurement and supplier strategy is a critical component of the overall supply chain strategy. It involves identifying key sourcing principles, defining a strategy statement, understanding the portfolio of supply inputs and their use in developing procurement strategies, and analysing the strategies to achieve competitive advantage.
Sourcing Process
The key part in the procurement strategy is mapping what are we buying, how much we are buying, how much it costs, uniqueness of the product, how many suppliers are there. While there are several ways of segmenting spend, one useful way is to map procurement of all items into two dimensions: Risk/Impact and Annual Spend (€€€). This produces segments of tactical, leveraged, critical and strategic sourcing as per the quadrants below.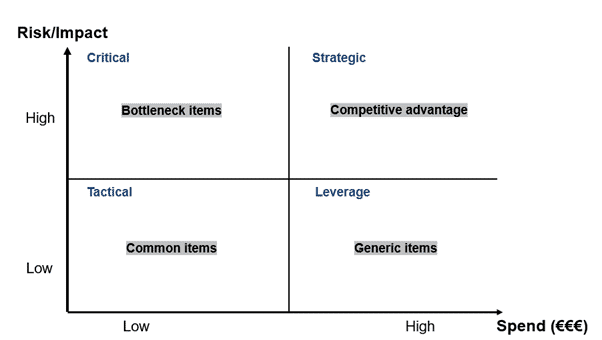 Tactical sourcing – high volume of transactions of low risk and low value items.
Key strategies in this segment involve reducing the planning, sourcing and administrative overheads on these items while ensuring continued supply.
Vendor Managed Inventory or Kanban replenishment to reduce planning resources
System contracting – use of consolidated suppliers to manage continued supply of c-class items
Electronic ordering, invoicing and invoice validation
Application of procurement card to minimise supplier set up and payment processing
Leveraged sourcing – high volume of low risk but higher value items
This frequently involves the sourcing of higher value items where there are many available suppliers for comparable or generic products. In these circumstances leverage may be gained by consolidating supply and by incenting behaviour to share supplier driven cost reductions.
Segment and consolidate spend across fewer suppliers while managing risk
Maximise leverage through periodic formal procurement events
Consider auctions where products are truly generic and volumes are of strategic supplier interest
Focus on total cost to supply – landed costs, inventory management, supplier engagement
Consider actions that can drive alignment of incentives
Critical sourcing – high risk but lower value items
Although the spend value of these items is low, these items are critical to revenue generating activities and can appear as bottlenecks. They include capital items and spares, custom tools and other specialty products. Awareness and visibility of the supply risk on these items is essential to prevent being blindsided by a lack of supply.
Ensure availability through long-term supply contracts
Adjust the planning parameters to increase the level of safety stock
Identify opportunities to simplify this category of products – reduce skus through standardisation
Identify techniques to manage assets over their lifetime
Where possible identify substitute products to further manage risk
Strategic sourcing – high risk and high value – strategic items and services
Many of these products / services are critical to creating competitive differentiation in the market. These items typically benefit from a more strategic engagement with critical suppliers.
Establish partnerships / alliances with key suppliers with long term agreements
Create environment for collaboration with profit sharing, shared approach to investments, combined product development
Active governance structure with strategic engagement linked to operational strategy and metrics
Focus on strategic outcomes rather than management of detailed processes
Potential for vertical integration for risk reduction, innovation, sustainability
The overall procurement strategy will need to support supply chain and ultimately corporate strategy. Supplier segmentation as above can inform procurement strategy and prioritise resources to the areas that drive the greatest corporate benefit. The metrics that support these segments should also reflect objectives that go beyond pure financial savings.
Contact us at any stage if you are interested in a discussion on how procurement strategies impact your business and how to achieve competitive advantage.
---
Supply Chain Enabled