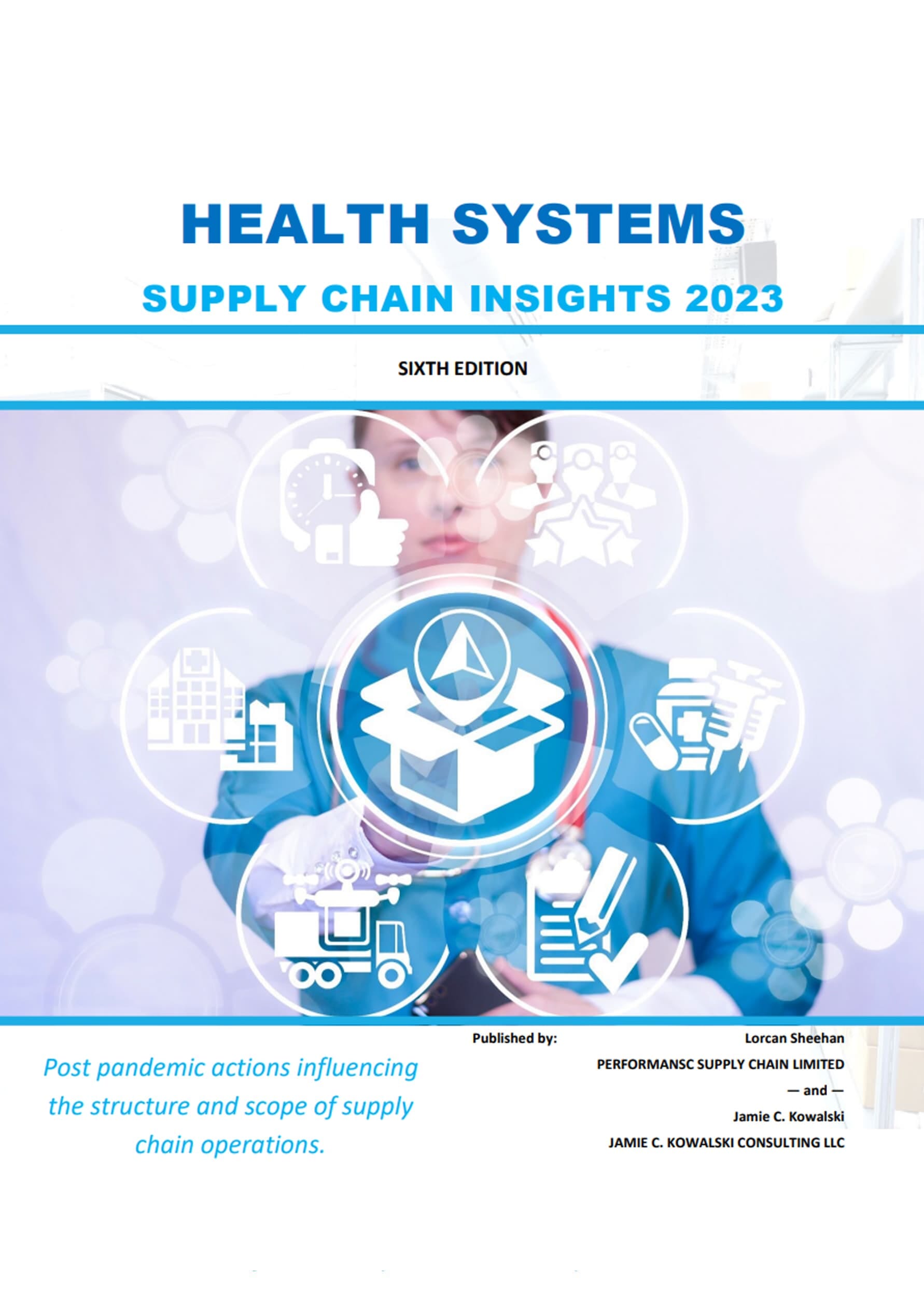 Resources
Health Systems Supply Chain Insights 2023
---
This report marks the sixth edition of the Health Systems, supply chain insights series by Lorcan Sheehan, PerformanSC and Jamie Kowalski, Jamie C Kowalski Consulting LLC.
This survey of health system supply chain leaders began in 2012 with a survey focused on the evolution of the Consolidated Service Centre ('CSC') supply chain  model within health systems.    Approximately every two years since then, we have tracked the evolution of Health Systems supply chains with direct inputs from supply chain leaders.
In 2021 we received inputs on planned supply chain changes within healthcare supply chains post pandemic and in this survey we take a look back on which plans have come to fruition.  In particular we have seen shifts in sourcing strategy, attitudes to inventory and risk and the scope of products being supported through CSC operations.
Buy Now
This report provides direct insights from Health Systems supply chain leaders on the structure and scope of their supply chains and on the strategies that they are employing in meeting the challenges in delivering excellent Healthcare.
60 health systems in the U.S. and 5 international health systems, were identified and supply chain leaders from these systems were personally invited to participate in the 2023 research report.  From this group 16 Health Systems responded to the detailed survey between March and October 2022 answering 51 questions about the scope and operation of their supply chain model.  The questions were grouped under the categories below:
Health system profile
Supply chain operations scope
Physical characteristics of their supply chains
Supply chain organization structure and talent development
Management of suppliers
Management of transportation
Inventory and risk management
Technology deployed
Sustainability
We expect that the research series will be useful for:
Health systems supply chain leaders – providing insight into comparable supply chain operations
Health systems considering investments in or developing a business case for a consolidated service center operation
Distributors and GPOs to get insights into how they can best service this growing segment of healthcare supply chains
Technology suppliers  to understand the scope and objectives of health systems supply chains
Automation and hardware suppliers to health systems
Product suppliers to understand the different priorities and opportunities in dealing directly with health systems